Restaurant
The Celtic Music Centre's Ceilidh Pub offers lunch service featuring live traditional Celtic music with some of Cape Breton's best up and coming and seasoned musicians, 6 days a week 

Our menu of Nova Scotia favourites features a signature seafood chowder, a variety of grilled sandwiches, burgers, fresh salad, tasty desserts and more, all house made.

Our fully licensed bar offers a variety of local craft beer including Big Spruce Brewing & Breton Brewing, local craft cider, local wine, coolers and spirits. Be sure to try one, or two, of our signature cocktails created by staff and friends!

Our 2022 Menu: (subject to change)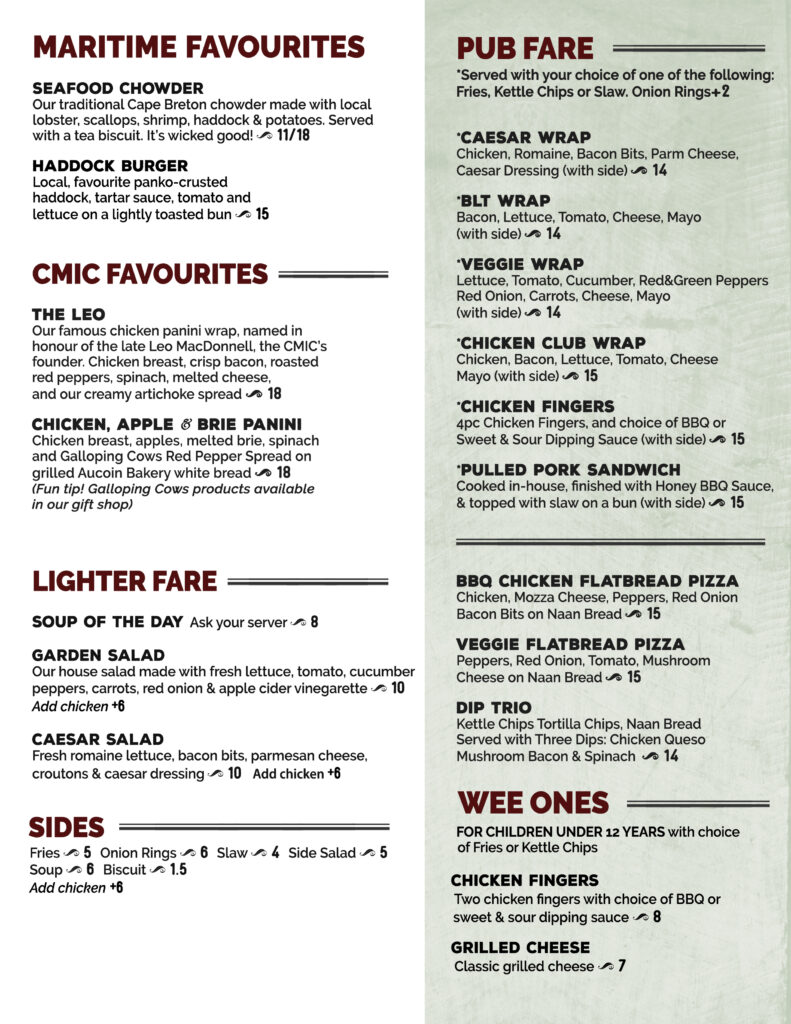 We are proud to support our local farms and fisheries and source local ingredients as much as we can.



Lunch Reservations
We recommend groups of 6 or more people contact us in advance to make a reservation.
We are unable to take reservations for smaller parties due to our very busy lunch period.
No reservations on Sundays!
Gluten-Free Meals
While some of our menu items may be considered gluten-free, we are not a gluten-free kitchen. Because of the small size of our kitchen, we are unable to separate the preparation and cross-contamination could easily occur. We will do our best, however we regret that at this time, we are unable to guarantee that any item can be completely free of allergens.