Buddy MacMaster Fiddle Camp
Each October, we welcome students from all over the world to the Buddy MacMaster Fiddle Camp, a week-long camp offered at the Celtic Music Centre during the week of the Celtic Colours International Festival.
Reserve your seat NOW for our annual Buddy MacMaster Fiddle Camp! Running October 14 – 18, 2024 in conjunction with @celticcolours, intermediate and advanced players can register for single day(s), or the full five-day camp. Spots are available on a first-come, first-served basis, offering two incredible instructors each day. Camp information, instructor information, full schedule, along with registration details can be found here.
The Cape Breton style of fiddling has captivated audiences across the globe.  Every year, thousands of visitors travel countless miles to Cape Breton with one objective in mind: immerse themselves in this music.  Few players can claim the level of prestige and influence as the late local legend Buddy MacMaster.; his name is synonymous with Cape Breton fiddle music, and every fiddler on Cape Breton Island today has been influenced by his music in one way or another.  In 2006, renowned Cape Breton fiddler Kinnon Beaton founded an annual school in his honour.
The Buddy MacMaster School of Fiddling is a five-day series for intermediate and advanced players.  Each day features two different instructors chosen from among Cape Breton's very finest fiddlers, each with their own unique musical signature.   Students will learn the nuances of the Cape Breton style in a personal setting.
Our 2023 instructors included:
October 9- Donna Marie DeWolfe and Dara Smith
October 10- Troy MacGillivray and Katie McNally
October 11- Wendy MacIsaac and Mairi Rankin
October 12- Andrea Beaton and Kenneth MacKenzie
October 13- Kyle Mac Neil and Howie Mac Donald
Masters Concert 2024:  October 10th
To kick off the school, a concert featuring all the instructors is held the Thursday night before the opening of Celtic Colours.  The concert is open to everyone, but students in the school are highly encouraged to attend, as they will get a chance to hear each instructor in their element.
DATE: Monday, October 9 – Friday, October 13 (2023)
Students will have a chance to hear many great fiddlers during the week who are on location at the Celtic Music Centre and throughout the island during the Celtic Colours Festival. 
Time: 9:30am – 3:00pm
Includes breakfast before class at 9am
Break for lunch (11:30am – 1:00pm)  where you can attend the Lunch Ceilidh at the Celtic Music Centre and enjoy some LIVE music.
Instruction Level: Intermediate with a focus in playing by ear.  Sheet music will be provided by request.  Please let us know during registration.
$150.00/Day   |  $500.00/week
For questions or to register, please phone us at 902 787 2708 or email our Events Team.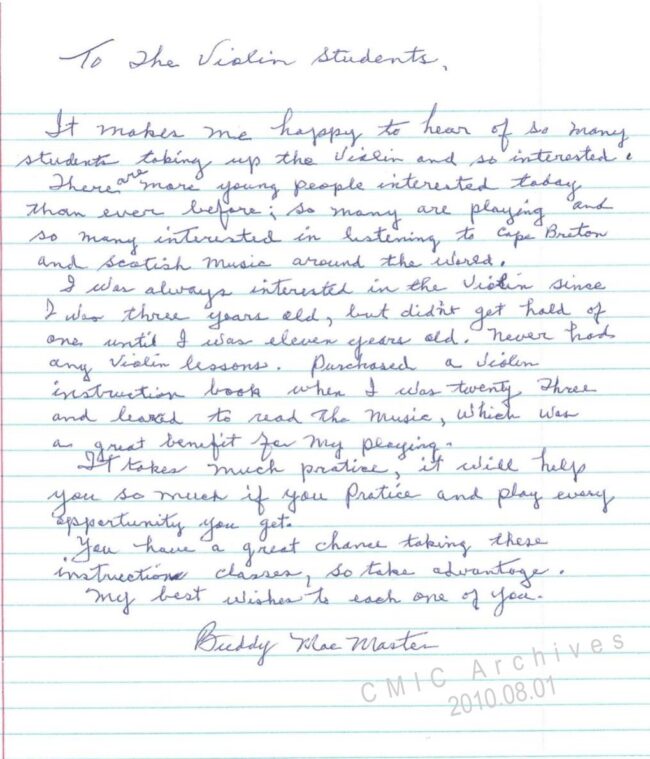 For more information about our previous instructors:
Andrea Beaton
Website: https://www.andreabeaton.com/
Gaelic College: https://gaeliccollege.edu/faculty/andrea-beaton/
Celtic Colours: https://celtic-colours.com/artists/andrea-beaton/
Dara Smith-MacDonald
Gaelic College: https://gaeliccollege.edu/faculty/dara-macdonald/
Donna Marie DeWolfe
Gaelic College: https://gaeliccollege.edu/faculty/donna-marie-dewolfe/
Celtic Colours: https://celtic-colours.com/artists/donna-marie-dewolfe/
Howie MacDonald
Celtic Colours: https://celtic-colours.com/artists/howie-macdonald/
Katie McNally
Website: https://www.katiemcnally.com/
Gaelic College: https://gaeliccollege.edu/faculty/katie-mcnally/
Kenneth MacKenzie
Gaelic College: https://gaeliccollege.edu/faculty/kenneth-mackenzie/
Celtic Colours: https://celtic-colours.com/artists/kenneth-mackenzie/
Kyle MacNeil
Mairi Rankin
Celtic Colours: https://celtic-colours.com/artists/mairi-rankin/
Troy MacGillivray
Website: https://www.troymacgillivray.com/
Celtic Colours: https://celtic-colours.com/artists/troy-macgillivray/
Wendy MacIsaac
Gaelic College: https://gaeliccollege.edu/faculty/wendy-macisaac/
Celtic Colours: https://celtic-colours.com/artists/wendy-macisaac/