Gaelic / Gàidhlig
We are hosting Gaelic Language classes in May.
The graphic below will provide the details.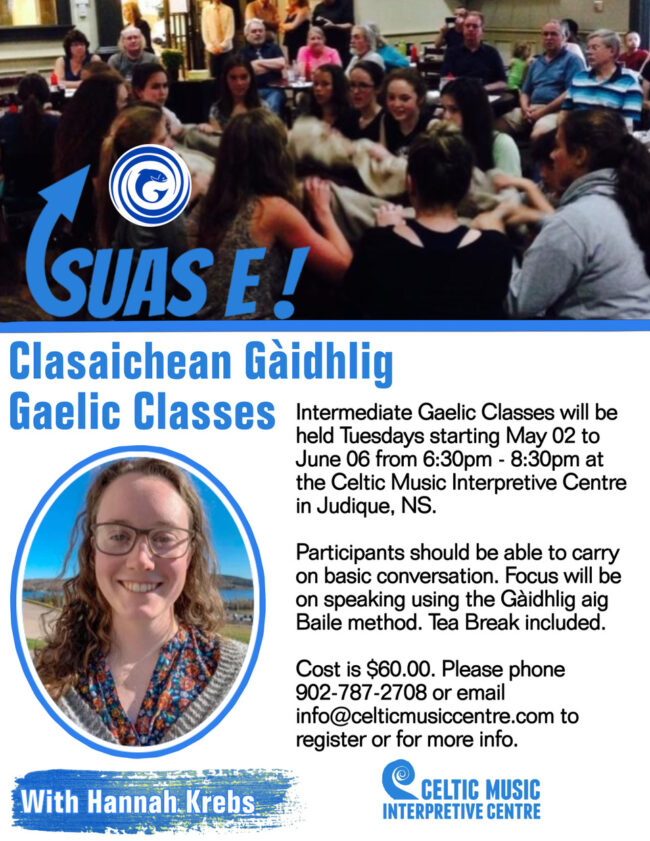 Interested in learning Gaelic in the comfort of your own home?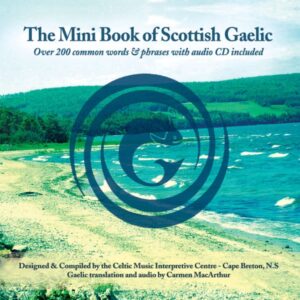 The Celtic Music Centre's "Mini Book of Scottish Gaelic" is for beginners wanting to learn some basic words and phrases in Gaelic. The included audio CD allows learners to hear the Gaelic spoken throughout the book. It's a fun and fast way of learning some of the common words and phrases. This mini book focuses on the dialect used in North America.
Over 200 words and phrases included. Audio spoken by well-known Gaelic instructor, Carmen MacArthur.
The Celtic Music Interpretive Centre also offers on-demand short beginner Gaelic lessons from June-August. Just drop in and take a lesson!
During winter and spring, CMIC offers Gàidhlig aig Baile / Gaelic Immersion Classes. Gàidhlig aig Baile is an immersion method of Gaelic language instruction used in communities throughout Nova Scotia. The classes provide students with a strong foundation in the language in a fun, social and interactive environment. The methodology is that people should first learn to speak the language, while reading and grammar can be taught later, in the same manner in which people learn their first language.
No prior knowledge of Gaelic is required and all ages are welcome. The classes are adapted so that people at all levels will benefit from the classes. The method of instruction is non-intimidating and no one is ever "put on the spot" if they don't want to be.
We encourage anyone with an interest in learning the language to take part.
Email us if you would like more information.
The CMIC also hosts regular Gaelic events promoting Gaelic language and culture such as supporting youth in the Féis Cheap Breatuinn (Féis Cape Breton) and Na Gaisgich Òga (The Little Heroes) programs, presentations and workshops and Gaelic Socials/Ceilidhs. All events are listed on our Events page.
The Gaelic Symbol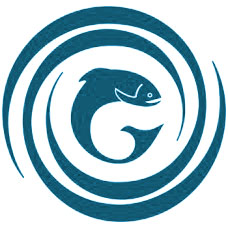 The image is that of a salmon in the shape of the letter 'G'.
The salmon represents gift of knowledge in the Gaelic storytelling traditions of Nova Scotia, Scotland and Ireland and the Isle of Man.
The 'G' represents the Gaelic language and the ripples are the manifestations of the language through its attendant culture: song, story, music, dance and custom and belief system.

Gàidhlig aig Baile classes are made possible with the support from Oifis Iomairtean na Gàidhlig / Nova Scotia Office of Gaelic Affairs.
The Gaelic Culture of Nova Scotia
Gaelic, a Celtic language and its rich culture have helped shape Nova Scotia's identity. Centuries ago, Gaelic speaking immigrants from both Ireland and Scotland came by the tens of thousands and made Nova Scotia their home. In both instances, these settlers called themselves Gàidheil (ones who speak Gaelic).
Scottish Gaels settled in large numbers in eastern Nova Scotia and throughout Cape Breton Island.
Cape Breton, Nova Scotia Gaelic
The Gaelic language and culture of these early settlers is commonly referred to as Nova Scotia Gaelic and is part of daily living in the province. Fiddle and pipe music and Gaelic song provide a rich musical experience. Dance, storytelling, local history and customs are part of community living.
The famous "kitchen party", often referred to as a "Ceilidh" ("a visit") is a common occurrence and is a great way to share language, song, music, dance and story.
For more information, please visit:
The Office of Gaelic Affairs
www.gaelic.novascotia.ca/
The Gaelic Council
www.gaelic.ca