Musical Walking Tours
*Returning June 2023
An authentic Cape Breton Experience
Join our musician guide, for a musical guided-walk along the beautiful Celtic Shores Coastal Trail, easily accessible right behind the Celtic Music Centre. Learn interesting facts about Cape Breton's culture, music and history along the way!
Did you ever wonder…
What differentiates Cape Breton's Celtic music from Irish or Scottish?
What the word "Ceilidh" means and how it's pronounced?
How to pronounce some basic Scots Gaelic words?
How to tell the difference between a Jig, a Reel and other tune types?
What some of the common local lingo is?
What and where the local wildlife is?
Musical Walking Tour Includes:
Get piped down to the trail by our Highland Bagpiper (when available)
Guided walk along the Judique section of the Celtic Shores Coastal Trail
Chance to read the interpretive panels and view beautiful scenery
Learn some Gaelic words and stories of local culture
Ceilidh with live music and Q&A with our fiddler while you enjoy a snack
Learn a few local dance steps if you're up for it!
Musical Walking tour lasts approximately 1.5 hours (includes 20 min. break for Ceilidh).
Good to know:
The trail is flat and generally in good condition but good walking shoes are recommended as well as a jacket or sweater on cooler days. Suitable for all ages. Don't forget your camera/phone to catch some great shots along the trail!
About the Celtic Shores Coastal Trail: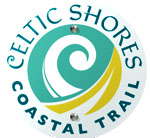 The Celtic Shores Coastal Trail is a 92-km (57 mi) multi-use trail stretching from Port Hastings to the Town of Inverness on the west coast of the spectacular Cape Breton Island. Great for off-road cycling or long distance trekking, the easy, flat trail meanders along the coastline, through picturesque wilderness, skirts streams, and connects several communities and attractions.
A simple wave or "Hi" on the fly to those you meet along the trail is the Celtic Shores way!