Exhibit Room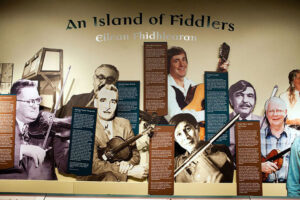 The Celtic Music Centre's Interactive Exhibit Room allows you to take a journey through the history of Cape Breton music through samples of tunes, songs, stories, dance, bagpipes and fiddle music and the story and the culture behind them.
See vintage instruments and audio equipment used generations ago, hear and learn the difference between tune types such as a jig, reel, march, strathspey, waltz, clog and more, try your hand at a tune with the available fiddles as you follow along with the interactive Fiddle DVD, give your dance steps a try on our dance floor, built to mimic Cape Breton's square dance halls, following the interactive video and learn some basic Gaelic words and phrases using the mounted iPad and headphones.
The room is soundproof so don't be shy and give it all a try!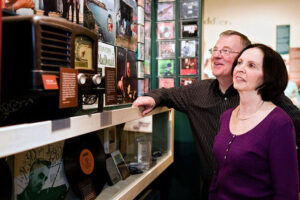 The Exhibit room has been custom designed to get you "Tuned in to Cape Breton Music" and should be your first stop in Cape Breton to provide you with the knowledge on Cape Breton's music, culture and dance so that you can better understand and enjoy the music and culture during your vacation.
Your self-guided tour through the Interactive Exhibit Room can take 20 minutes or several hours.
You decide how long your visit will be!