The Donald Angus Beaton Project
Correspondance
Letters sent to Donald Angus Beaton.
RR#1 East Bay C.B.
Sept 30, 1962
Dear Donald,
No doubt you will be surprised to see this note because I am so damn lazy about writing. But anyway I hope this letter will find you and all the care well. We are fine down here. Well Donald my piano player Doug MacPhee took of to Boston. I will sure miss him. I had a letter from him the other day and he told me Angus Chisholm landed in Boston to stay. He hasn't taken a drink in seven months. I guess he played terrific Doug said. Well Donald I was talking to Dan R. and he asked me if I had the original set of Killiecrankie so I am sending it along to you along with a jig I also got in Gow's I thought you'd like. Dan R. said he was sending you the Walker Collection for the winter. I had it and I copied 171 tunes out of it. I hope you can make this out. Hoping to [hear] from you soon
Yours truly,
Dan Joe MacInnis
Ref: 2006.43.02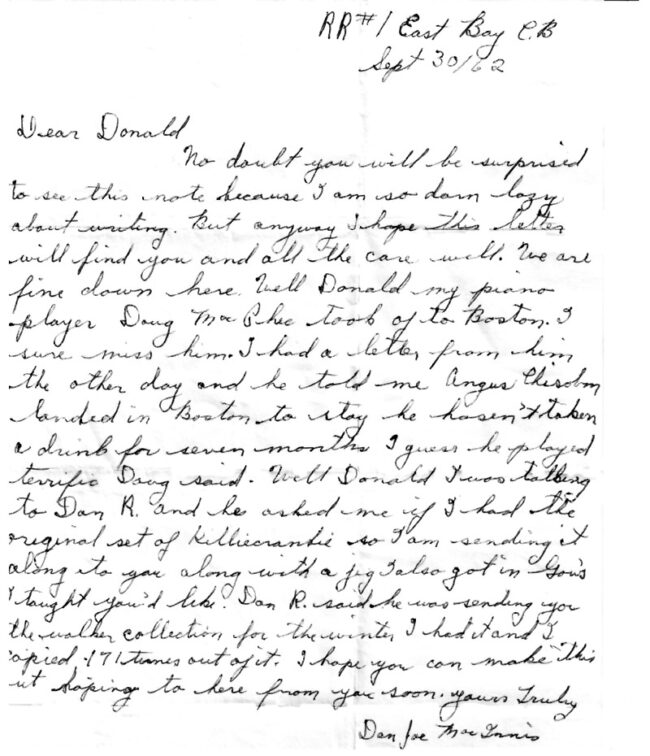 ---
South West Margaree, N.S.
Oct 6th, 1954
Mr. Donald A. Beaton
Dear Friend Donald
I finally got around to sending you the music we promised you long ago. I am sorry that you did not get this music sooner but I was so busy and the time went by from day to day until now. However I hope you will like John Morrison and also the other tunes I am enclosing with it, this tune goes good after John Morrison. And by the way did you get the music of the Jig, Walking the Floor? If not I will send you a copy later on. Drop me a line and let me know. Hoping you and all your care are well.
I am as always,
John Alex F. MacLellan
Ref: 2006.43.01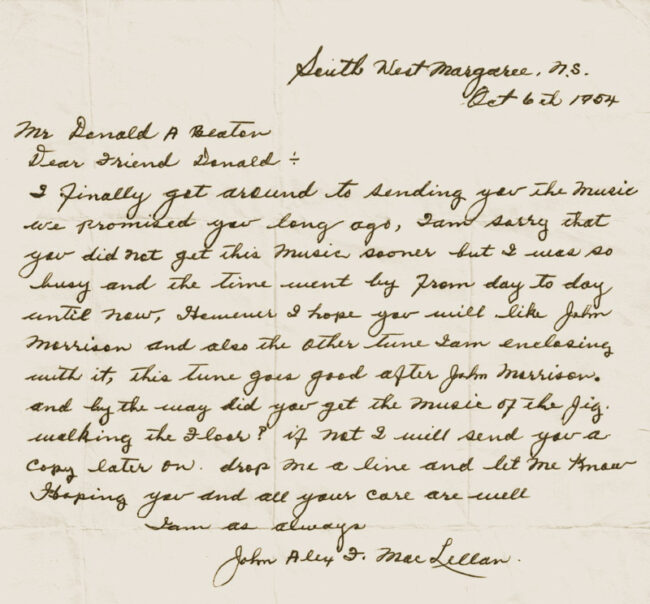 ---
34 Alanberry Cres.
Scarsborough, Ont
May 13, 1968
Dear Donald Angus,
Received your most welcome letter to-day and I must say, very glad to see that you enjoyed your trip to Toronto. I hope you will enjoy your 'many' trips to Toronto next season. The dances will be finished for the year in June. Will start again in September. I hope your good wife will be able to spare you a lot next year.
Well Donald Angus, I really appreciate receiving those wonderful tunes in the mail from you to-day. They are great tunes and I shall learn them as soon as possible and will be playing them in the very near future. I am honored at having a beautiful march composed for me (and in my name) by you.
I am enclosing a couple of tunes you liked when you were up. "Mr. A.G. Wilken's Favorite" from the Miller O'Hirn Collection, and the "Cat's Craig" from Logie's Collection. Hope you'll like them. There is also a good strathspey "Mrs. Chree" which comes good after Mr. Wilken's Favorite – also in the key of "F".
I am at work now (it is 2:30 in the morning). I have just run these tunes (from my books) off on our Photostat machine. It is a fast way to "write" tunes ha ha! Each page takes one second to run off.
The next time you come up, I am going to show you the different books I have and if you like them you can borrow them or if you like some of the tunes I can run copies off for you at work very quickly.
Well Donald Angus, I better close for now. Write if you get a chance some time for it is always nice to hear from home.
Your friend,
Sandy MacIntyre
P.S.
The people at my dance Saturday night were still raving about the terrific dance we had when you were here. It was an excellent dance and as Doug MacPhee put it, "I have never heard Donald Angus play better."
Ref: 2006.43.03 (2 pages)